Theft in flats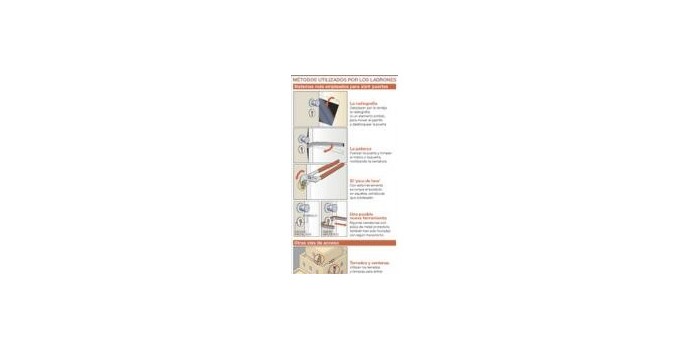 The police support a significant rise in burglaries in flats BCN.
Locksmiths say that in 2010 increased 15% in housing services assaulted.
The difficulties in entering the thieves in jail triggers the sense of impunity.
The burglaries are about to relieve the theft as the main security problem in Barcelona. The Catalan police, although no figures made public allegations of such crimes, it does officially recognize that "the theft story in 2010 reported a significant increase." In fact, this type of theft is the only crime that rose in the Catalan capital last year. The other types of crime fell.
The robberies in the interior of the home are increasing in Barcelona for three years.This rise is explained not only by the crisis, but by something that happened with petty theft: the sense of impunity. That is, as with pickpockets, thieves homes, if they are arrested and brought to justice, they tend to go free because judges do not dictate against provisional detention.
DIFFICULT ATTRIBUTIONS / The reasons are that it is difficult to attribute to the same robber several robberies on different floors, that are not typically allow entries and records of the suspects homes unless there is evidence of that is involved in a large number of rounds and it is not easy to stop them in the act. The result is that many of these thieves are stealing the feeling that Barcelona flats is free.
Moreover, this theft has become internationalized. Thus, the Spanish gangs join groups from Eastern Europe, Maghreb, South American and sub-Saharan Africa, police said. Thefts are occurring during the day, since these bands look empty homes after their owners have gone to work. "In the Mossos, every noon and every late afternoon, multiply the complaint calls from people who have been stolen. It is when they return to work and find out what happened, "says David Miquel, the police union of Catalonia (SPC).
ARRESTED TWICE / The phenomenon is becoming so great that several officials of the Autonomous in different districts have already created teams of agents dedicated solely to combat this crime. That led in 2010 to stop thieves twice homes last year, but even so we managed to reduce this type of theft.
In some neighborhoods, the increase in assaults in a short time has led to situations of hysteria, forcing the residents' associations to seek meetings with the Mosses."Here in a single day was stolen on two floors of the building and tried on four more.Now, neighbors are going to buy and leave the radio on for thieves to believe that there are people inside, "a neighbor has Nou Barris district which was stolen two weeks ago.
Locksmiths, that every time the door bursts should go to a home repair, have also received this significant increase. Jordi Suari, manager and former secretary Suari locksmith association locksmith professionals statewide, a figure increasing by at least 15% in the last year. Likewise, it confirms a variety of ways thieves operate, although it detects an increase in the use of more sophisticated mechanisms.
"Before, science was required to open a lock locksmith was something passed down from father to son. Now, however, everything is on the Internet. I get a new locking mechanism and a few days and spreads as resale '